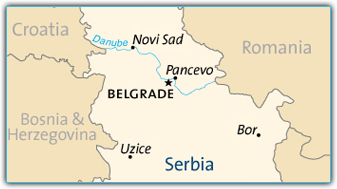 No matter where I live and where I'll end up, the only place I will call home is the city of Novi Sad – the place where I grew up. Novi Sad is second largest city in Serbia (part of the former Yugoslavia) with the population of about 300 000. It is also the capital of northern region of Serbia called Vojvodina.
If Goldilocks was deciding where to live instead of looking for the best porridge to eat she would have said that Novi Sad is just right place for settling in. It has great history, even greater beauty and is a cultural center of Serbia which is why people often call it the "Serbian Athens".
And if that is not enough there is also a bonus for all of the river-loving people: Novi Sad is lies on the left bank of the great river Danube. Now days Danube may not be as blue and as clean as it once was but is still a beautiful river. It has little bays that get covered with ice during winter which makes a perfect ice-skating place. There are also nice beaches and little sand-islands that pop-out in the middle of the Danube when water level is low enough which make perfect summer-fun-places. And if you need some quiet, relaxing time there are plenty of places where one can experience joys of fishing. But the thing I like the most about the Danube is that specific scent of the river that fills out the air all year long.
This is the Petrovaradin Fortress the way it looks today. Someone once told me that because it was rebuilt through centuries by different "owners" it now has 7 levels, that is, under those buildings that you see on top there are 7 levels of tunnels underground, inside the mountain.
Now days I think only two of the top levels are open while everything below third level is not a safe place to be. As a kid I used to hear this stories that somewhere deep inside there is a treasure buried and that there was like an explorer-type guy who went to look for it but never came back. As adventure-seeking kids whose favorite movie at the time was The Goonies (was that a fun movie or what!) me and my friends used every opportunity we had to sneak in those tunnels (no, our parents didn't know about that and I would like to keep it that way) and go gold-hunting. Of course we never passed level 1 (those tunnels can be quite confusing) but with a tour-guide those tunnels are a definite must-see! Today, Petrovaradin Fortress is an artistic center. It hosts quite a few studios of renown artists and also the Art Academy located there.
This tower-clock (so called "Sahat-Kula") that you see on this picture is a trade-mark of the city of Novi Sad and Petrovaradin Fortress. At the same spot until XVIII century there was and old tower with a clock which was torn down and this new tower was built. It is quite unique because its large handle shows hours instead of showing minutes like any other normal clock does.
There are a few reasons for this but the most popular one says that the clock was built that was so that the sailors could read the time from their ships on the Danube even in a bad weather. Another interesting thing about this clock is that it runs ahead during nice and warm weather while during winter it runs behind. This peculiar behavior has earned it a nickname "Drunken Clock".
The clock itself was made in France and was a gift from the Empress Maria Theresia in the beginning of XVIII century. On the top it has a weather-vane and instead of a pike at the mast it has a heart.
Novi Sad is on the left bank while Petrovaradin is on the right bank of the river Danube. They are considered to be twin cities. They are separated by the Danube but connected by bridges which are of essential importance for these two towns.
The first permanent bridge was built in 1788 but was torn down in the bombing of Novi Sad on Jun 12th, 1849. The bridge that you see in the middle was built on the ruins of the old bridge in just 160 days. It was called The Varadin Bridge (although people, including myself used to call it The Old Bridge) and was the first (built in 1946 as a war compensation from Germany) permanent steel bridge built in Europe after WWII.
It was destroyed on April 1st, 1999 during NATO bombing of Yugoslavia. The first bridge you see on this picture was called Zezelj Bridge. Construction took from 1957 to 1961 and was realized of stretched concrete (first in Europe, second in the world). It had railway tracks and pedestrian crossing on both sides. During NATO bombing it was bombed the most and finally destroyed on April 26th, 1999. The bridge that is furthest away on this picture is the Sloboda (Freedom) Bridge which was built in 1981 and was 1312 meters long. It was also destroyed during NATO bombing on April 3rd, 1999.
On the left picture you can see the City Hall which is located on the Miletic Square in the heart of Novi Sad. This square is one of the best places to be for the New Years celebration. It bares the name of Svetozar Miletic who was the great Serbian politician and theoretician and whose monument is in the middle of the square.
The close-up of this monument you can see on the picture on the right. In the background of the same picture, that is, right across the City Hall, you can see the Cathedral. To be honest that is not a real Cathedral, that is, it is not a bishops church. Nevertheless people call it the Cathedral due to its size and monumentality. It is also the most favorite locator-meeting-spot for young people when they go out.
So if you want to meet with someone and you ask the where will you meet there is almost an unwritten rule that the response will be "Lets meet next to Cathedral at such and such time". Therefore my advice to you is: NEVER arrange a meeting with your blind-date next to Cathedral since you'll probably spend the entire night looking for him/her in the crowd.
One of the oldest streets of Novi Sad is Dunavska (Danube) Street and it is shown on the left image. The part of this street shown here is characterized by two-story houses whose owners come from respectable families with great tradition.
On the right you can see orthodox cathedral of St. George. It has been built in the period of time between 1860 and 1880 on the ruins of old church that dated back to 1734 but was destroyed during bombing in 1848/49. It has a tower with a clock on all four sides and four bells inside. Iconostasis iside the church has 33 icons.
Stolen from the swamps, built and destroyed through centuries, Novi Sad is an unusual, attractive blend of ancient Serbian spirituality, Austro-Hungarian cultural heritage, raw southern beauty and northern elegance.
A town on the bank of the river with a mountain in the background, surrounded by fertile plough lands and famous hills covered with vineyards, a town with rich tradition and cultural heritage Novi Sad is truly a town "just right".